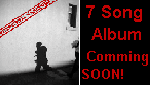 7-23-02 Lots of things have happend for us in the past 2 weeks. We had a kickass time at the Factory last Friday night with President Busch, Dis-honorably-Discharged and Youth at Risk! Bo's 27th Annual Biker Bash was out of hand with Roasted Pigs, Gunz, Booze and The Mechanical Bull. Meanwhile we are preparing for the Summer Tour. Check ya folks later.
7-2-02 Happy 4th Of July, we will be playing the 15th Annual Ensley Fest in Lake Stevens on thursday, email us for details. We will also have a show Sunday July 7th and the Revolution Room with Hot Hot Heat and Radio 4.
6-26-02 The website is coming along slowly because of all of our extra time is being spent organizing the summer tour, so be patient! Shows and pictures coming soon!
6-20-02 Most the links are working now. We have a big show this Saturday at the Jet Deck with ASR. Come show the support!
ddddd